The Tapestry Rooms of the Royal Palace in Milan have been contextualised as a place where the codified meaning of a visual system would weave together both political outlook and artistic value: basically, every tapestry is a form of writing by images, ornaments and signs that hint at deeper, complex meanings, today ever more difficult to pick out.
At the same time, these surfaces withhold codes and conventions that lay down the rules for the interface between elements and their decoding viewed as an open system which from fluid material (information), takes on specific form and meaning, determined by reference to the work itself.
The plot further thickens with references to Ovid's Metamorphoses: the leading theme of the tapestries and a key text of the classical world, telling of the dilemma of becoming, of transformation and of the mutability of the natural state of things, with an absolutely contemporary truthfulness and intensity.
The narrative itinerary of the exhibition unfolds through four installations commissioned to Space Popular, Sabine Marcelis, Constance Guisset and Qu Lei Lei that fostered participatory interaction on behalf of the public.
They seek out a correspondence with the hosting space and with the Myth, from the multiform dimensions of Medea to the incarnation of Scylla, only to then experience the virtual company of the Argonauts.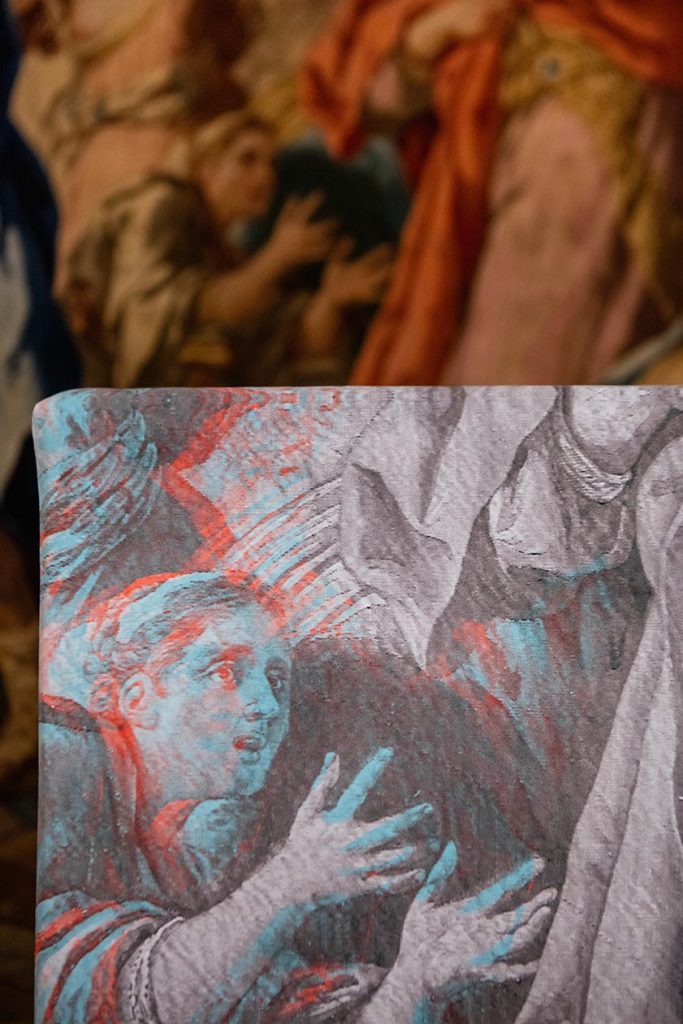 DE/CODING
Alcantara in the Tapestry Rooms
Palazzo Reale, Milano
Curators: Domitilla Dardi, Angela Rui
Installations by:
Qu Lei Lei
Studio Sabine Marcelis: Sabine Marcelis with Liv Dannevang, Adeline Faveau, Johanna Sepp.
Constance Guisset Studio: Constance Guisset with Alexandre Chevallier, Jean Montfort, Inès Waris
Space Popular: Fredrik Hellberg and Lara Lesmes.
Graphic design:
POMO: Marco Cendron with Valeria Accurso, Benjamin Dennel
Exhibition design:
Plotini Allestimenti, Studio Cromo